Foot Treatments, Assessments, and Care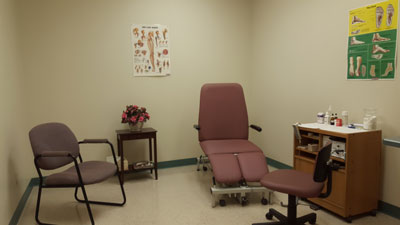 Dr. Gurgul provides a wide range of services to treat a number of foot related problems.
Sport Injury Treatment
A sports injury can happen to athletes regardless of age, competition level, or the type of sport they play. Force is what causes damage to tissue. Sports injuries usually occur either as a result of sudden trauma (an acute injury), or develop as a more chronic injury over time (from strain or overuse of the muscles and tendons). Dr. Gurgul is experience in treating both types of injury. He identifies the specific location and cause of the injury, and follow the diagnosis with physical therapy, application of a brace or boot, or oftentimes, both.
Pediatric Foot Assessment
When children are growing, it's important to monitor their feet for any potential problems that can be resolved by being proactive. If your child is experiencing foot pain, difficulty walking, an acute injury, or chronic foot injury, Dr. Gurgul provides pediatric foot assessments to uncover the cause of these foot conditions. We identify the injured area, recommend rehabilitation treatments for athletes, and examine lower limb structure and function.
Lower Limb and Foot Pain Treatment
Dr. Gurgul also provides treatment for lower limb pain. This includes muscle cramps, shin splints, tendinitis, and nerve pain in your lower legs, ankles, and feet. There are a number of causes ranging from minor to more serious—Dr. Gurgul can determine the cause of your leg pain and administer treatments in office as well as recommend things you can do at home to alleviate any type of lower limb pain. For example heel pain, often referred to as heel spurs, may in fact be caused by excessive strain on soft tissue called the plantar fascia. While a heel spur may be visible on x-ray it may not be the cause of the heel pain. Plantar Fasciosis is attributed, to mention only a few, to running on hard surfaces repeatedly, poorly fitting shoes, excess weight, and gait abnormalities. Conservative treatment such as stretching, wearing different shoes, taping the foot, therapy, inserts, and orthoses are used first, while more extensive treatments are used if these do not work.
Gait Analysis
Dr. Gurgul provides video gait analysis, which can assist runners in improving their performance and technique. The assessment highlights biomechanical patterns with angles, measurements, and drawing shapes. Upon completion of the assessment, we will go over the results with you, providing helpful tips, exercises, and critiques according to your needs and personal goals.
Treatment for Foot Related Skin Conditions
Dr. Gurgul will also treat any type of foot-related skin condition, which most often results in removal of the abnormality and aftercare for the area. Dr. Gurgul will also treat any type of foot-related skin condition, which most often involves corns and calluses. Debriding or removal of these is done without pain and will ease the discomfort immediately. Other common skin conditions include plantar warts and athlete's foot which can be treated with variety of approaches.
General Foot Care
Dr. Gurgul also provides general foot care to address your concerns, answer your questions, and help you maintain optimal foot and ankle health. If you have an occupation that requires you to be on your feet all day, we can recommend shoe inserts and footwear specific to your needs. We also offer treatments that can help prevent injury or pain that can result from overuse of the muscles in the feet. We provide general foot care for patients of all ages from children to senior citizens.
Diabetic Foot Care
One side effect of diabetes can be pain, swelling, loss of sensation and circulation problems in the feet, as well as dry skin, calluses, and foot ulcers. We can treat or assist in managing any of these conditions to alleviate discomfort and help in reducing the risks to keep the foot condition from worsening.
Minor Nail Surgery
Our foot clinic also provides minor soft tissue surgery and procedures for complicated nail conditions, chronically ingrown toe nails and potential associated hypergranulation tissue. For any complicated or more serious foot surgery required, we can refer you to a specialist in our network and will continue to work with you to ensure you achieve a full recovery.
For more information, check out these links: